Serenity & quality of your stay in the cottage « Le Fournil »
We want to allow you to spend pleasant moments while ensuring optimal hygiene and safety for all.
The hygiene and cleanliness of our establishment has always been a priority, so in this difficult period, we are strengthening our cleaning and disinfection procedures, in accordance with government recommendations.
We adhere to the « Séjour Serein » (means "peaceful stay") charter, drawn up by a network of owners of guesthouses and lodges in line with the recommendations of international and national institutions.
Here are the measures we took in addition to the usual cleaning during this COVID19 period:
Before your stay:
Disinfection of sensitive areas : door or window handles, stair railings, remote controls, childcare equipment, wc, bathroom furniture, trash cans, furniture, windows, household appliances, work surfaces and worktops, plastic in the dining room… For each of these steps, a checklist will be filled so as not to forget anything.
The cottage will remain empty minimum 24 hours between two rentals
Minimum ventilation of 3 hours of the cottage, washing sheets at 60 °, disinfection of textiles and floors.
The cleaning cloths (rags, towels,…) will also be cleaned at 60 degrees and the cleaning equipment will be disinfected.
We favor the dematerialization of our communications, payments and invoices

During your stay :
We will always welcome you warmly but with the required distance and a mask on our face.
We also invite you to come with your personal mask.
Masks will be available in your « sanitary kit » for adults and children over 12 years old.
During subsequent contacts between us, wearing a mask will also be required.
As always, we will show you the advantages of our cottage and our property and your welcome gift will be placed on the table in your dining room.
The cottage is adjoining our house. The shared garden leaves enough place for everyone to make the most of the outdoors in complete serenity and with strict respect for social distancing for the safety of all.
Furthermore :
The keys will be disinfected and already placed on the front door.
The rental guarantee will be paid into our account beforehand, where we will make a "contactless" transfer together on your arrival (payment system via QR Code).
We will provide a sanitary safety kit for the duration of your stay: disinfectant spray, washable masks, hydroalcoholic gel, tissue, soap, thermometer, useful information such as the list of pharmacies, doctors, childcare services and hospitals in the region.
Tourist information in paper and children's games will not be available at the cottage during this covid19- period.
Various restaurants nearby offer take-away meals, we will provide you with the menus on offer.
Each evening, you are asked to put in the dishwasher, in addition to dirty dishes, all the utensils used during the day (corkscrews, can openers, etc.).
Depending on the circumstances related to covid19, local tourism activities may be closed. However, some may open during the summer. We will inform you on your arrival of the possibilities to benefit from the assets of the region.
We will make it a point of honor to offer you activities related to your desires or centers of interest so that your stay remains an unforgettable experience despite the limits imposed by covid19.
At the end of the stay (check out measures) :
We ask you to empty all the garbage cans and baskets in the house (bedroom, toilet and bathroom) in the sorting bins provided for this purpose outside the cottage.
All handkerchiefs must be thrown away in the closed garbage cans of the kitchen and the bathroom.
Open the 4 windows, swinging to ventilate.
It is imperative to take back all your personal food or hygiene products and not leave anything on site that belongs to you.
Do not undo the beds and leave the bed sheets in place. We will take care of it after your departure.
Put the key back on the front door (outside).
Without damage, your rental guarantee will be returned to you by bank transfer within 7 working days of your departure.
Modification of the cancellation conditions – Covid19 –
During this exceptional period, total flexibility is our policy.
For reservations made before September 01, 2020 : Cancellation possible 24 hours before for all reservations already made or for those to come before September 1, 2020.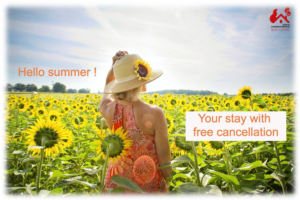 In these two cases, you have the choice between a "voucher" (valid for 18 months) or a refund (if canceled at D-24h).
For reservations made after September 1, 2020 : the normal cancellation policy will apply.
We thank you for your support and, until we have the pleasure of welcoming you soon, we remain available to answer your questions by email or phone.
Vincent and Marie-Julie Vandevelde – La Ferme du Parc –
For more information on Belgian health measures: https://www.info-coronavirus.be/